Rather than wasting those precious after-work hours and weekends endlessly scrolling through hundreds of options, we've done our best to make it easy for you by collecting the best Hungarian Netflix movies. So get your snacks ready and throw on your comfiest PJ, it's movie time! 
1. We started together (Együtt kezdtük)
If you are looking for something light and breezy just like a carefree summer day at Lake Balaton, this Hungarian rom-com is the perfect choice for you. The coming-of-age story follows a group of high school friends into adulthood, each taking a different path. Ten years after their graduation, two of them are getting married and the gang meets up again in the beautiful Hungarian countryside. However, long-buried secrets are about to resurface, which will nearly ruin the big day. Lake Balaton serves as a stunning backdrop to the film. 

Source: facebook.com/egyuttkezdtuk
2. Riviera east (Nyugati nyaralás)
Despite its obvious shortcomings, there are still many people in Hungary who look back to the weathered Communist era with a certain nostalgia. Car mechanics, Gyuri Mauer and his family are about to go on the holiday of their lifetime to the French Riviera but all their plans are scuppered when only three passports arrive instead of four. However, Hungarians are known for their ingenuity, and Mauer comes up with a marvelous alternative. The family will pretend to be wealthy foreign tourists at Lake Balaton, borrowing the car of a customer. Little do they know, that the car belongs to a wanted West German spy. 

Source: facebook.com/nyugatinyaralas
3. Open (Nyitva)
The plot of this cheeky Hungarian romantic comedy follows a young couple exploring the possibilities of a non-monogamous relationship. Fanni and Bálint tentatively venture into a previously unknown territory in a bid to save their sexually deflated relationship and light up the old flame. The movie is packed with hilarious moments as things most often don't work out the way the couple imagines. Reality more often than not fails to match their steamy fantasies.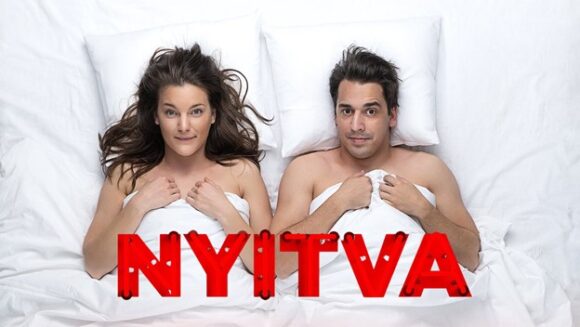 Source: Nyitva – official FB page
4. The grandson (Az unoka)
If you thought great thrillers are only made in Hollywood, this captivating revenge movie will definitely change your mind. After his grandfather falls victim to an elaborate scam losing his humble savings and a precious family relic, Rudi's life turns upside down. He vows himself to track down the people behind the fraud and take back his grandfather's belongings. In his quest, he gets a helping hand from an attractive female co-worker.

Source: facebook.com/unokafilm.kristofdeak
5. Granny project (Nagyi Projekt)
Finally, our last suggestion is a bit different from the previously listed ones, being a thought-provoking documentary on the traumatic effects of the Holocaust. Despite examining a grim subject, it doesn't make this award-winning road movie any less entertaining. Three young men embark on a seven-year investigation to discover bits and pieces of their heritage through the extraordinary lives of their grandmothers: a Hungarian Holocaust survivor, a British spy and a former dancer from Nazi Germany. 

Source: facebook.com/GrannyProject
Main picture: canva.com
– Eleonora Jobst –